Because dogs are just the cutest.

They're like. SO smart.

My Milo ah. si-beh smart.

10 out of 10 people that has dogs, visited my house, and said :

"Wah. Your dog very kuai (well-behaved) hor"

Don't rush out of the gate when it is open.

Don't simply move here and there during her bath.

Don't bite shoes unless u're a stranger (unfamiliar smell).

Welcomes my arrival back from school everyday (sometimes too enthusiastically).

Cats?

OMG lah where are their brains?

When u go google and type 'fat cats',

u get tonnes of these.

and these

and these

and theese.

Why are they so fat?

Cos they just laze around whole day rubbing themselves on furnitures or any Tom,Dick and Harry's legs, waiting for a fur ball.

Pffft.

Let's compare and see.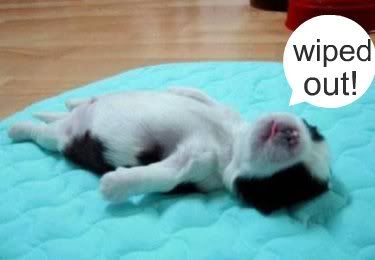 DOG

CAT


Dogs are just the best

Don't kill me, cat-lovers.